At the beginning of the year, this site listed a number of books we were most looking forward to hitting our shelves.  At the top of the list was the second installment of Alison Weir's six novels telling the stories of Henry VIII's curious Queens.
'Anne Boleyn: a King's Obsession' will debut in book stores on May 18th.  Across social media, the best-selling author and historian has been hinting that the novel will explore new and potentially controversial theories about Anne's relationship with Henry and her attitudes toward female advancement.    Given that Weir has previously stated that writing fiction gives the historian a greater degree of freedom when exploring thoughts and theories, anticipation is high as to what remains to be revealed.
However, for those more interested in a fresh take on one of history's greatest love epics and the downfall of the original tragic heroine, there's just as much reason for eager excitement.  If the new artwork and endorsements from fellow writers released last week are anything to go by, absorbing the new book is going to be a beautiful experience from start to finish.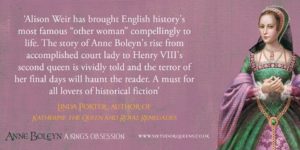 The USA cover for the second 'Tudor Queens' book