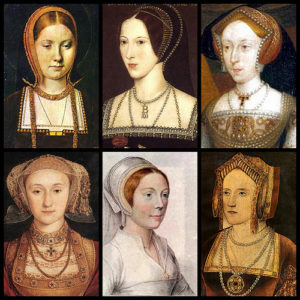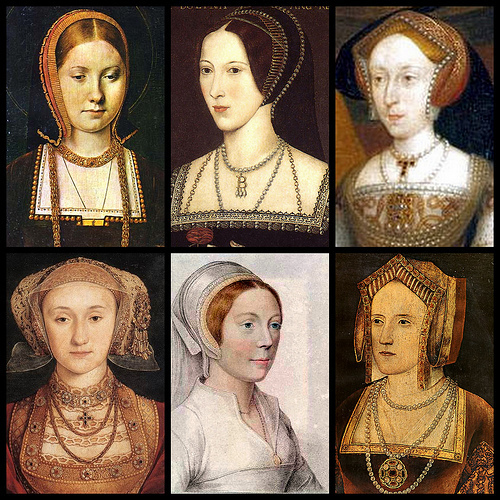 This week we're going to have a post about the Henry VIII era every day.  If I haven't said it before, let me say it again – we are super cool people!
Want to kick it off with some #QuickFireThoughts on which of his wives Henry VIII was actually in love with.  It's one of those fairly meaningless questions which can't be proved wrong or right either way – but hopefully you're getting the gist of this blog by now.
Of course, 'love' is a subjective term at the best of times.  It's not 100% clear what it means to us today, let alone how we decipher it against the backdrop of the Tudor marriage market and different expectations about fidelity on the part of the husband.  But ultimately love is timeless.  What we're looking for in this post, are indications of Henry's passion and commitment to his respective spouse; feelings driven more from the heart than a logical pragmatism and a passion that was deeper than physical.
Let's go.
Katherine of Aragon – He was certainly enthusiastic about marrying her and treated her (in public) fairly well to start with.  But there were probably other motives.  He was keen for the alliance with Spain (of which her father was effectively King) and wanted to appear like a man rather than a boy.  A prestigious wife helped with that.  Alison Weir argues that Henry's 'love' for Catherine was never really passion.  I think she is probably right.  As I've argued in another post, Henry was probably unfaithful to Katherine within a year of their marriage.
Anne Boleyn – Surely this is a no-brainer?  I guess you could argue it was infatuation rather than love but I think that's splitting hairs.  I also don't think the violent reversal in his feeling suggests it was never love to start with and that, in part, may have been fuelled by feelings of betrayal.  Yep, with Anne it was love; heart and soul.   Until it became hate.
Jane Seymour – Hmm…tricky one.  She was in the right place at the right time and being the polar opposite of Anne certainly helped.  And who knows what would have happened had she lived.  But we have to go on what we have – and remember that no love is without questionable motives.  She was the Queen that he always mourned and remembered.  As Roxette might say, "it must have been love."
Anne of Cleaves – Actually I have an unusual but credible theory on this.  There is newly discovered evidence that – ah sorry, can't keep this up!  No.  Just, no!
Catherine Howard – Perhaps the trickiest one of all.  But I'm going for no.  I think it was lust.  He was hurt by her betrayal but I'm not sure the feelings ran deep.  But I am prepared to be out-argued on this one…
Katherine Parr – He admired her.  Respected her.  Cared for her.  But it's difficult to see that a flame was burning.  During her time, he still lauded the memory of Jane – but then she had given Henry his only son.  It's a toss up, but I'm going to land on 'no.'
And now…over to you geeks.  Have I underestimated his feelings for Catherine Howard?  Were his feelings for his first wife genuine love that faded with time?  Were his lasting affections for Jane entirely rooted to the fact that she had delivered a son?  I want to know what you think!