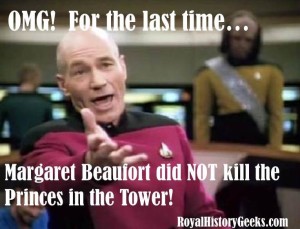 I've always known that a handful of people judge Margaret Beaufort guilty of the death of the Princes in the Tower.  But until I published my series on Richard III – and incurred the wrath of the Ricardians – I had no idea just how widespread the theory was.
Absolutely no contemporary source links Margaret to the crime.  An obscure 17th century biographer attempting to redeem Richard III links the deaths to a 'certain Countess' (presumably of Richmond) but offers nothing by way of evidence.   I can't shake the feeling that this view is currently so popular because of the 'White Queen' TV series in 2013.
It is, I believe, credible to suggest that Margaret had a motive.  With the sons of Edward IV out the way, nothing would stand in the way of her son making an alliance with Elizabeth of York, uniting their claim to the throne and over throwing the tyrannical Richard. But a motive is not proof.  It isn't even close.
At the heart of this debate, in my opinion, is a correct understanding of how closely guarded the Princes were. Mancini tells us that Richard dismissed the boys' servants and drew them closer into the tower.  Only Richard's loyalist men had access to them in the context of a high security prison.
How could Margaret possibly have gained access to the Princes, even if she had wanted to?  The usual arguments go like this:
She was a wealthy woman who could have bribed the guards – She was a woman of some means.  But what on earth could she have given Richard's most trusted men that would trigger abandonment of their master.  Killing princes, even ones deem illegitimate, is a pretty risking business – one you would answer for with your head.  I just can't believe that you would do it under the orders of anyone but the ruler of the day.
Her husband, Lord Stanley was a mover and shaker at court – Yes he was.  But it does not equate that he would have access to the Princes.  He was powerful; but he was not part of Richard's inner circle.
I'm worried about the way some people are thinking about the Wars of the Roses at the moment.  I consider myself a feminist and I agree that for too long, historians neglected the powerful impact that women have made throughout the ages.  But we do no favours to anyone when we try and make the facts match our values.  Women were not the key players in the 15th century.  Perhaps they should have been.  But they weren't.
When engaging with people on this debate, I keep hearing people argue Margaret's guilt with lines such as 'she was a powerful woman in a man's world.'  Perhaps she was; but it's disturbing that people are almost suggesting that the murder of two young boys is somehow a display of power that we feminists should be proud of.
There's much we don't know about Lady Margaret Beaufort.  But what we do know suggests she was a kind, generous, pious, if a little austere figure.  Child murder was not something that was likely to appeal to her and even if it had, she could not have had the means.
Only one man had access to the Princes – only one man can reasonably be assumed to have murdered them.
What do you think geeks?  Am I underestimating Margaret's ambition?  Have I been naive to the means or access she might have had?  I want to know what YOU think!