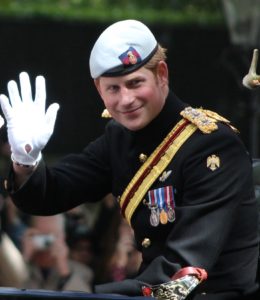 A few friends have asked what I make of the statement from Kensington Palace a week or so ago – the one asking for a bit of privacy for Prince Harry and his new girlfriend.  I'm a fanatical Royal watcher and (by day) a PR guy, so I guess it makes sense that people would inquire.
Some think it's a bit rich; the Royals are public property.  They get the money, the status and the security.  As a result they have to put up with living in the media gaze.
Others think it was poorly executed from a PR perspective.  Why release a story this strong the morning after Trump has so controversially cleaned up in the USA and make it inevitable it would receive less attention?  Shouldn't their press people know better?
Both the views above, are just plain wrong.
Of course the Royals are – to an extent – public property.  They are effectively all part of the UK constitution (not to mention those of the 15 other countries in the Queen's realm) and it's very much a family affair.  They enjoy a life of extreme privilege.  In return they carry out duties on behalf of the country, have their destinies more or less determined from birth and have to live with the fact that their lives are chronicled and captured fairly indiscriminately.  The Cambridges clearly accept this.  That's why we get a picture of Prince George and Princess Charlotte every six months or so.
But to say that a young(ish) man of Royal blood, who is not even directly in line to the throne cannot form friendships and relationships without those people becoming victim to media harassment is clearly a nonsense – especially when the relationship is being conducted relatively discreetly.
I'm never really one to blame the media.  They only give us what we want.  It is our desire for the rumours, the gossip – the juice – that fuels it.  Appealing directly to us (which is in effect what Kensington Palace did) with the statement was entirely justified.  As to whether it was a 'mistake' to release it during a busy news day – hardly!  It's exactly what I would have done.  You want it to be noticed, but you don't want 24/7 media pouring over it all day.  It wouldn't even surprise me if the press office brought it forward when they realised Trump was going to triumph.
You might wonder why I'm posting this on a blog about Royal history.  Well, to start with, this site is about the Royal houses that have shaped England, Britain and the UK – so that includes the present day house of Windsor.  But there's a deeper reason I decided to put 'pen to paper.'
It occurs to me that our human desire for gossip, speculation, slander and scandal is never going to be satisfied.  However, it concerns me that we're happy to see living human beings torn to shreds in the process.  If only people realised that you can get all this and more by studying the annals of history.  Is not Henry VIII's well documented courtship of Anne Boleyn far more tantalising than following the development of a relationship between two people who are both free to marry?  Couldn't we have more fun debating the paternity of John Beaufort than worrying about what diet a current young Royal is on?  The tales of tension between Hanoverian Kings and their heirs are surely more interesting than guessing at how well the Queen gets on with Prince Charles.
We will never change human nature.  But channeling our thirst for gossip into interrogating the past at least makes us less likely to cause pain to other human being.