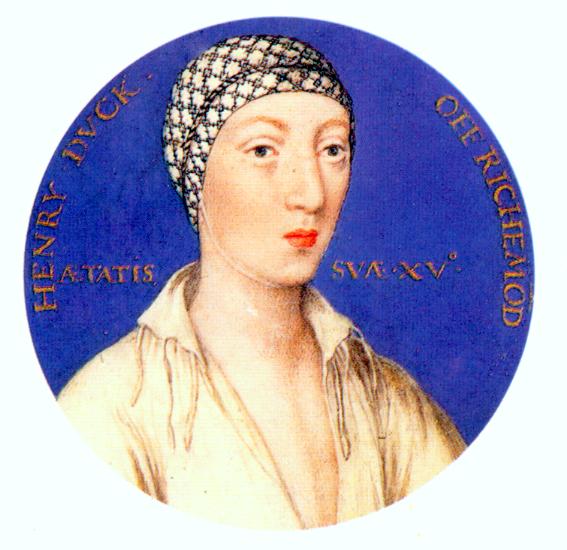 Lately I've been diving into a wealth of books about the Henry VIII era.  Having got a bit trapped in the Wars of the Roses last year, it's been good to return to the Tudors, my first love.
As I read, I keep coming across references to Henry Fitzroy, the only acknowledged illegitimate son of the second Tudor King.  He's a character that, when time and energy permit, I'd like to learn more about.  For now though, I wanted to blog some #QuickFireThoughts about the thing that all super-cool people are most interested in – the titles that were bestowed on him.
Keen Tudor fans will know that having been acknowledged as Henry VIII's son since birth, in 1525, with the King increasingly sensitive about his lack of male heir, the six year old boy was elevated to the upper reaches of the English nobility and given the titles Duke of Richmond and Duke of Somerset.  Some, both at the time and subsequently, believed that Henry was keeping his options open and considering a bastard succession.
What's interesting about these titles is that they were both intrinsically linked to the Tudor dynasty.  Edmund Tudor – Henry's grandfather – had possessed the earldom of Richmond and his young wife, Margaret Beaufort was descended from the Earls and Dukes of Somerset.  The Dukedom of Somerset had also been bestowed on an ill-fated son of Henry VII.
They are also both titles of impeccable Lancastrian pedigree.  John of Gaunt himself had once been Earl of Richmond and, as just stated, the Somerset title had been wielded by his Beaufort offspring.
However, it occurs to me that had Henry wanted to use them, there were more explicitly royal titles at his disposal, particularly the Dukedom of York, which he himself had once possessed.  Clarence might also have been a more appropriate choice for someone of princely status.  Historians talk of Richmond and Somerset as being royal titles, but it seems to me that if anything, they can be more accurately described as 'quasi Royal'.
Edmund Tudor was the half-brother of Henry VI and son of a French Princess, but strictly speaking, he had no claim to English royalty.  Similarly, the Dukes of Somerset – the Beauforts – had been born illegitimate and were of questionable status.  Even though they were legitimised after the marriage of their parents, the fact that the eldest was already an adult and that his half-brother would later explicitly (albeit futilely) bar his descendants from the royal succession, meant that the taint of bastardy never truly went away.  The Beauforts were at best quasi-Royal.
Could it be then that at this stage, Henry was trying to establish his son not necessarily as a potential successor but as a member of the quasi-royalty?  Associations of these titles would have been well known to contemporaries and it is difficult to think that they would have escaped the notice of the King himself.  Henry would later give similar status to his daughters Mary and Elizabeth once he had divorced their mothers and declared them illegitimate.
Like I say, just a few #QuickFireThoughts – but it's amazing what gets the brain ticking.